---
Why fish the Wye?
Passionate Wye angler Gwyn Jeffs explains why he fishes the Wye almost exclusively.
I can't remember when my first trip to the Wye happened, sometime in my teens for sure.
It was a fantastic day on my first big river, catching chub after chub, when I hooked into something that was determined to get to Monmouth at high speed. The tackle ended up being unable to cope and I was left speechless with the sheer power of that fish.
That fish of course, was a barbel.
So began my obsession with the Wye that continues to this day, some 20 odd years later. Barbel are undoubtedly the biggest draw for visitors to the river, but opportunities abound for many species, with all reaching specimen size. Every year sees pike to over 30 pounds, barbel well into double figures, chub to over 7lb, roach to over 3lb, dace to over a pound, perch to over 4lb and carp to well over 30lbs.
There is also some excellent grayling fishing available in the higher stretches and these too run to specimen size.
The Wye is a river that has so many possibilities that it can be problematic deciding what to target for the all-rounder. No matter what species I'm after, usually I reach a point in the day where I wish I'd brought the gear to tackle another.
---
"The Wye is a river that has so many possibilities"
Unfortunately, there's only so much I can carry so I have to limit myself to one species at a time. Therefore I can pretty much guarantee that if I'm after barbel then the pike will be going nuts, if I'm on floating crust for chub then the perch will be chasing minnows under my feet and that if I'm lure fishing for pike then barbel will be flashing on every likely stretch of gravel!
That's the beauty of the Wye for me - there literally is something for everyone. Not forgetting of course the amazing trout and salmon fishing in the coarse close season for those of us able to cast a fly line.
Back in my early years on the river, the availability of coarse fishing was distressingly low. These days, thanks to WUF, the river is fishable for much of its length from the tidal reaches to Hay and above. The price of a ticket is nothing when compared to a day of solitude when the only sounds are cattle and birds and you have peace of mind that nobody is going to come and set up next to you.
One thing that always has me shaking my head when reading the catch reports are the frequent comments about lack of swims and how the banks should be cleared. On one of my favourite stretches there were several declarations that there were zero swims available, on my next visit I counted at least a dozen.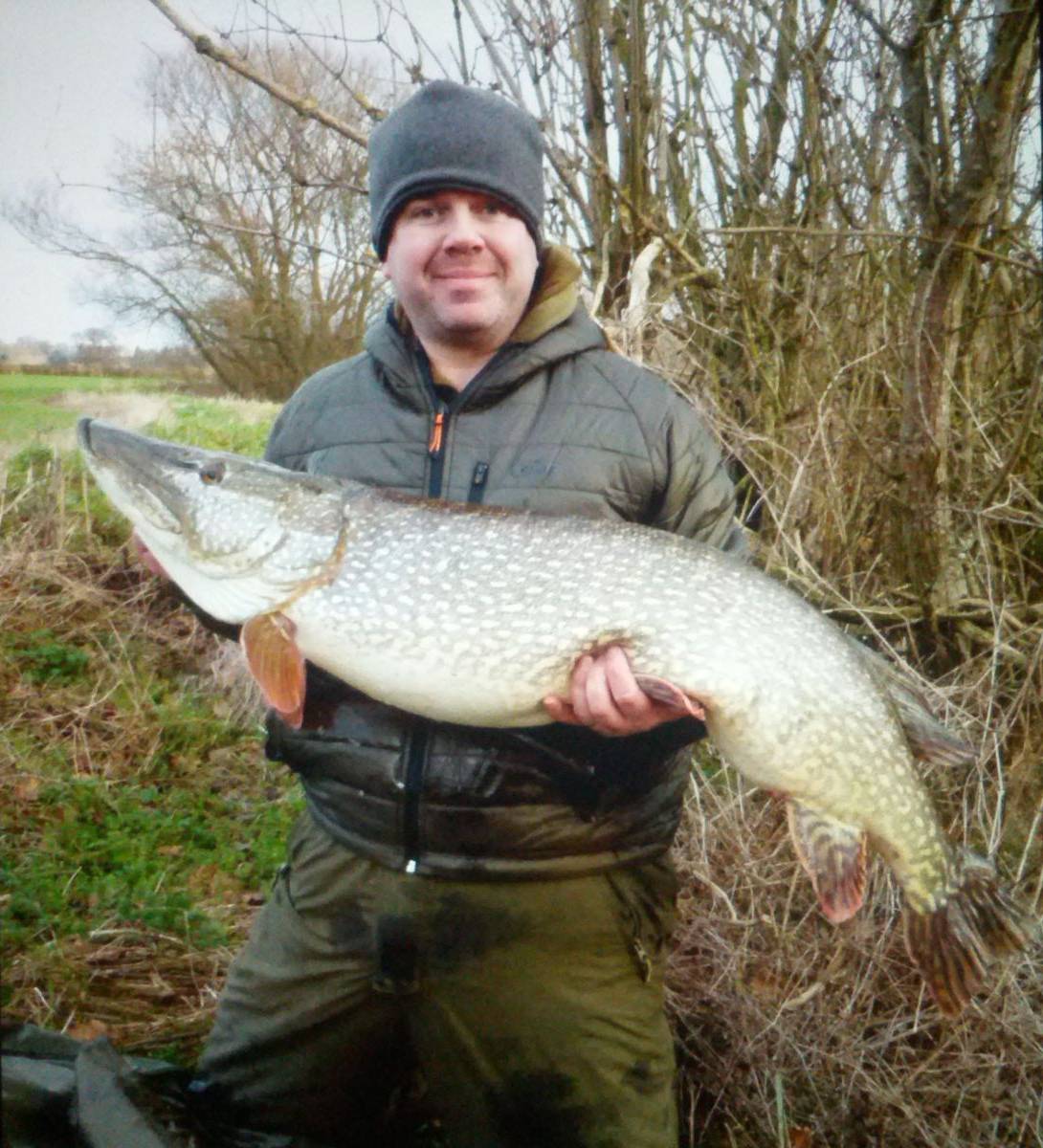 Visitors to this wonderful river should be aware that the Wye is a wild river - steep banks, tree cover and exuberant foliage is normal. Flat, open, comfortable swims is not.
If at all possible, fish during the winter to see a stretch and take note of just how many spots there actually are to fish from. In the summer when the nettles and balsam are head high, those ledges and flat spots are still there. A bit of clearance (flattening, not going to town with a bowsaw) and you're set to go, albeit with a few nettle stings.
On unfamiliar stretches, a prod around with a landing net handle will unearth the fishable areas. I've yet to find a stretch that is truly unfishable, despite fishing from Bigsweir in the tidal stretches up to Glasbury. Some stretches are wilder than others admittedly, but come prepared to put in a little effort and you can often find yourself sat on a shoal of fish that rarely or ever see a bait.
Regarding tactics, just about everything will work. Fish in the Wye are not tackle shy for the most part, 16lb mainline is my choice for barbel fishing for 2 reasons: abrasion resistance and to get the barbel netted in sensible time. 8lb line has no place on the Wye.
The reports of unfishable snaggy swims are largely exagerrated by fishing feeders and leads that are too light. Weed builds up on the line and eventually the rig gets dragged into a snag, whereas a 5 ounce feeder will stay put for a much longer time.
These days I prefer to float fish or get in the river with chesties on and trundle a bait around using a centrepin. I had the heartache of losing a 12lb+ barbel under my feet last season that was hooked on the float - clearly visible, I watched as a new PB edged toward the net and just as her nose touched the drawstring the size 12 hook pulled. Elation turned to anguish in an instant. To use the famous phrase..."I'll be back."
A major turnoff for a lot of people is the canoes, while most are courteous and polite there will always be a bad element as with any aspect of life. WUF offer the best advice - fish early and late.
While the canoes don't scare the fish at all (I have canoed on the Wye many times and watched fish simply drifting aside and even following the canoe), a party of a dozen splashing and swimming in front of you can be disconcerting. I simply reel in and wait for the more boisterous parties to pass - the quieter parties I continue fishing as normal. My current PB barbel came from underneath half a dozen canoes in a mere 4 feet of water.
If you absolutely must fish during the day in high summer at weekends and on bank holidays, look for the deeper runs and fish off the rod tip to avoid problems. It also helps if you can make yourself visible to the canoeists, the majority will move across as soon as they see you.

The Wye will produce fish in all conditions from showing its bones, to an iron grey grim winter river to a bank high flood. Even snowmelt doesn't completely write the river off, quite a rarity.
The best memories of my life have come from this river:
I've been fortunate enough to assist with two 30lb+ pike that friends and family have captured. Fate hasn't smiled on me yet regarding that magic number.
Hooking fair and square in the mouth a crazy mid twenty salmon on trundled paste with the centrepin outfit.
Feeding some (sadly unreachable) absolutely huge chub with floating breadcrust. The rod got put to one side as what can only be described as submarines charged around the swim displacing huge amounts of water.
Unfortunately, someone later removed the cover and those huge chub simply relocated elsewhere, never to be seen again.
A brace of 20lb pike (21 and 23lbs) from the same swim in less than an hour from what appeared to be a lifeless winter river. For once, fortune smiled on me.
Being fascinated on a summer's evening as seemingly every barbel in the pool began leaping like carp. I've never witnessed this phenomenon on other rivers, only the Wye.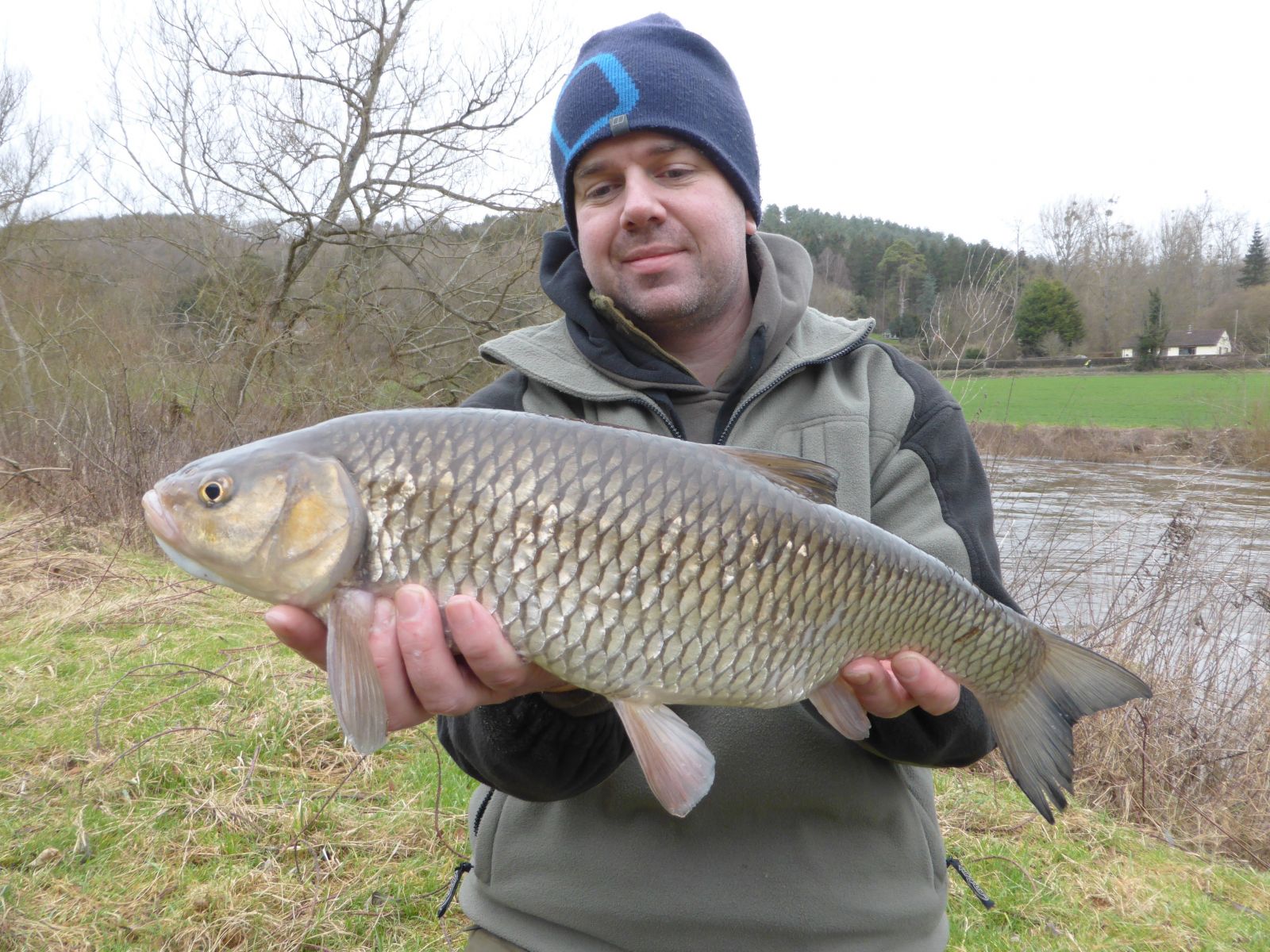 A 5lb 8oz chub
I could go on and on, the Wye leads to incredible memories and unforgettable days. It's a river that is very much under my skin and always will be. Be prepared for the wild banks, the undergrowth, the hard fighting fish and the punishment that the river can throw at your tackle and the Wye will become a friend you want to see over and over.
I hope everyone has a great season, circumstances dictate that this season will result in far fewer days on the river for me, but the days I do get will only mean all the more.
Tight lines.
Gwyn currently lives in Merthyr Tydfil and has been fishing for over 20 years; in France, Spain as well as all over the UK, but always comes back to the Wye. He's just as comfortable casting a (home-tied) fly for grayling or trout as he is trotting a stick float on a centrepin for roach and likes nothing more than bashing his way through nettles to find a new swim. His no-nonsense approach to fishing on the Wye means you can always spot his catch returns.